A "Business Procedure Manual", or "Systems Manual" is something that sounds very simple but hardly any businesses use or have one. Business Consultant, Paul Dwyer provides an explanation and benefits of using the Manuals in your business.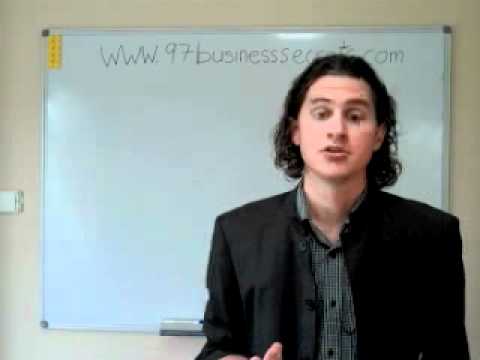 One of the major reasons for their benefit is that if you ever wanted to sell your business, what you have is a template for how your business operates.
Your Business Procedure Manual or Business Systems Manual must document your business in its entirety. You need to document the roles of each of the Job Positions, the skills needed, the Job Descriptions, the Key Performance Indicators, and the Outputs expected. You need to document each of the systems that you have in place, showing step by step how your business operates and how each of the Job positions fit in to the System. Now obviously, this is only a brief explanation of what a Business Procedures Manual and Business Systems Manual is and some of the information that they should contain. I will cover this aspect in more detail in a later Article.
Now, if you were to leave your business at any point, someone else can come in and fill your role. Your role and all it's responsibilities and Key Performance Indicators should be completely covered in the Systems Manual.
From selling the business point of view, a Business Consultant will tell you that your Business Procedure Manual or Systems Manual is an asset that you can use as a selling tool.
A Business Consultant can bring a prospective buyer for your business, who hasn't come from your industry. He can show your prospective buyer your Manual which will allow them to study your Business Procedure and Systems Manual and see that you have documented everything. They will be able to evaluate almost immediately if they can work your business from the information that is contained in your Business Systems Manual.
Your Business Procedures and Systems Manual is important for new staff that come in to your business, for your current staff that are working for you and if you ever want to sell your business.
Paul Dwyer explains that your Systems Manual lets you measure what is going on in your operations. A new employee that perhaps is accustomed to performing a 20 minute task in a 30 minute time frame, can see that you have set a benchmark to measure performance and outputs for staff members. Your Business Procedure and Systems Manual allows all employees to see that the benchmarks are for everybody and not just being used to measure one individual. Your staff have something that is clearly defined, achievable and measureable to work with.
From a Business Consultant perspective, if you aren't using a Systems Manual in your business now, you would be encouraged you to start setting some time aside to implement your own Business Procedure and Systems Manual.
If you have any further questions in relation to Business Procedures Manual or a Systems Manual contact Paul Dwyer at 97 Business Secrets.